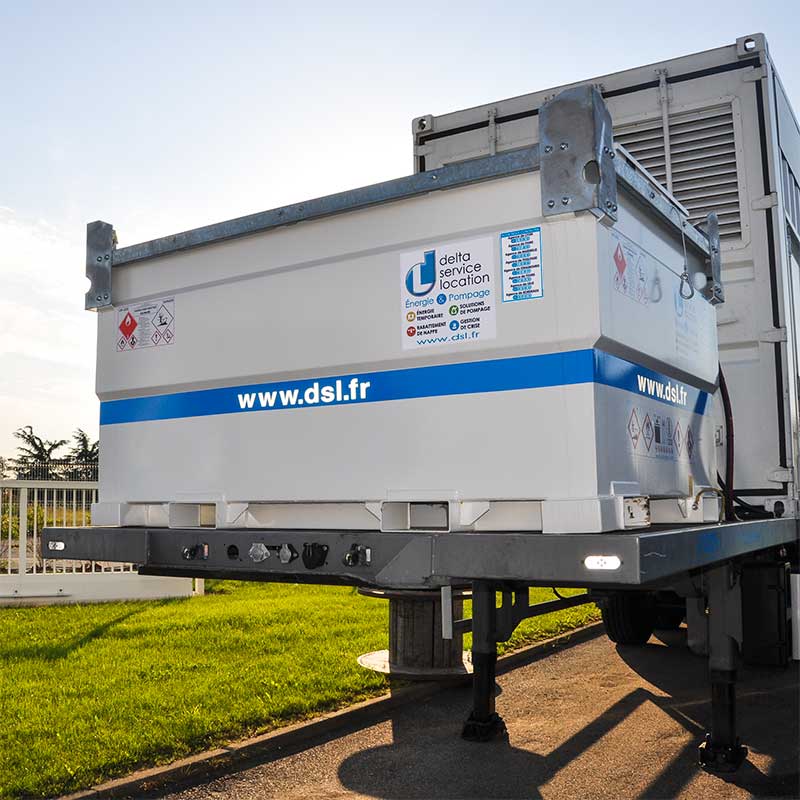 Fuel Tank Hire
Fuel tanks and tankers from 500 to 25000 L to increase autonomy of operation
We can offer you a complete range of IBC (Intermediate Bulk Container) tanks from 500 to 3 000 litres, to increase the autonomy of our generators and diesel driven pumps.
All these fuel tanks are ADR* approved, so they may be transported and supplied full of NRD (non-road diesel), a derivative of diesel suitable for off-road motorised equipment and construction equipment. As a result, they do not need degassing nor waste processing.
Our exclusive connection system allows fuel tanks to be twinned for an ADR capacity on request (8 000 L, 14 000 L, 30 000 L).
For more significant needs, we have 25 000 L tankers, which can be supplied empty.
Hiring fuel storage tanks from Delta Service Location means renting at competitive prices and without hidden costs.
* Accord for Dangerous goods by Road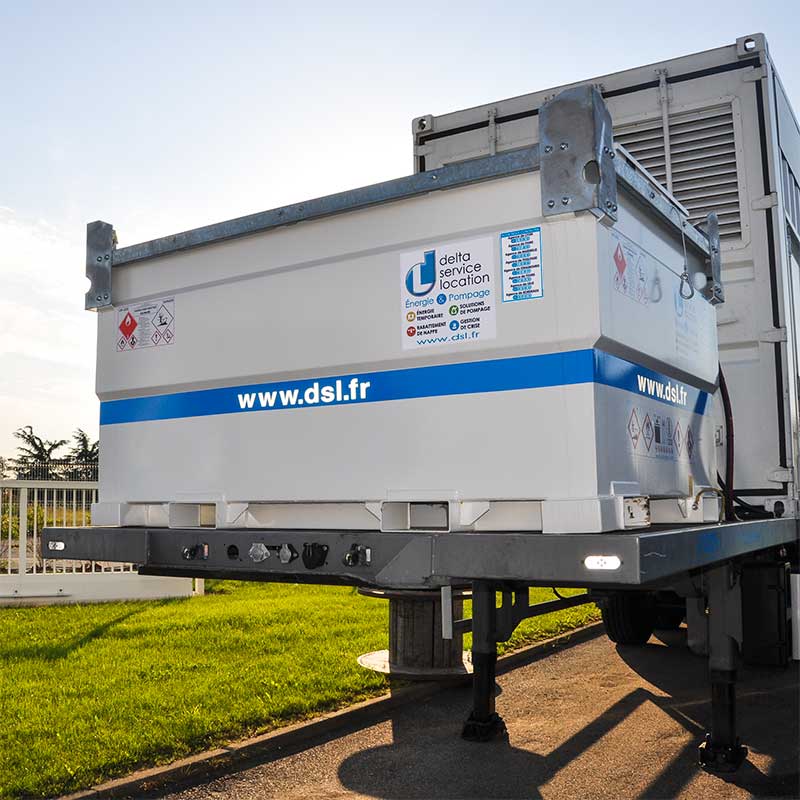 Contact us for any request for quotation, information on our services or availability of our equipment!
For our 24 hour on-call service or emergencies, you must please contact us by telephone.
Fuel Tank Hire
Reference
Capacity
Dimensions
Unladen weight
Laden weight

Tank transportable by helicopter (ADR)

500 l
L: 1.52 m
W: 0.87 m
H: 1.12 m
280 kg
860 kg

Intermediate Bulk Container (ADR)

1 000 l
L: 1.20 m
W: 1.15 m
H: 1.31 m
576 kg
1 439 kg

Intermediate Bulk Container (ADR)

1 000 l
L: 1.50 m
W: 1.20 m
H: 1.30 m
565 kg
1 313 kg

2 000 l
L: 2.33 m
W: 1.49 m
H: 1.27 m
895 kg
2 695 kg

2 000 l
L: 2.30 m
W: 1.20 m
H: 1.85 m
1 000 kg
2 700 kg

Intermediate Bulk Container (ADR)

3 000 l
L: 2.30 m
W: 1.63 m
H: 1.31 m
1 075 kg
3 725 kg

Intermediate Bulk Container (ADR)

3 000 l
L: 2.30 m
W: 1.20 m
H: 1.85 m
1 050 kg
3 580 kg

25 000 l
L: 6.06 m
W: 2.44 m
H: 2.90 m
9 739 kg
32 420 kg
ENVIRONMENT AND SAFETY*
ADR-approved tanks
Double-walled
110% content retention
Anti-rolling compartmented tanks
Anti-siphoning safety
Padlockable tanks
Anti-spillage warning when filling
*depending on model