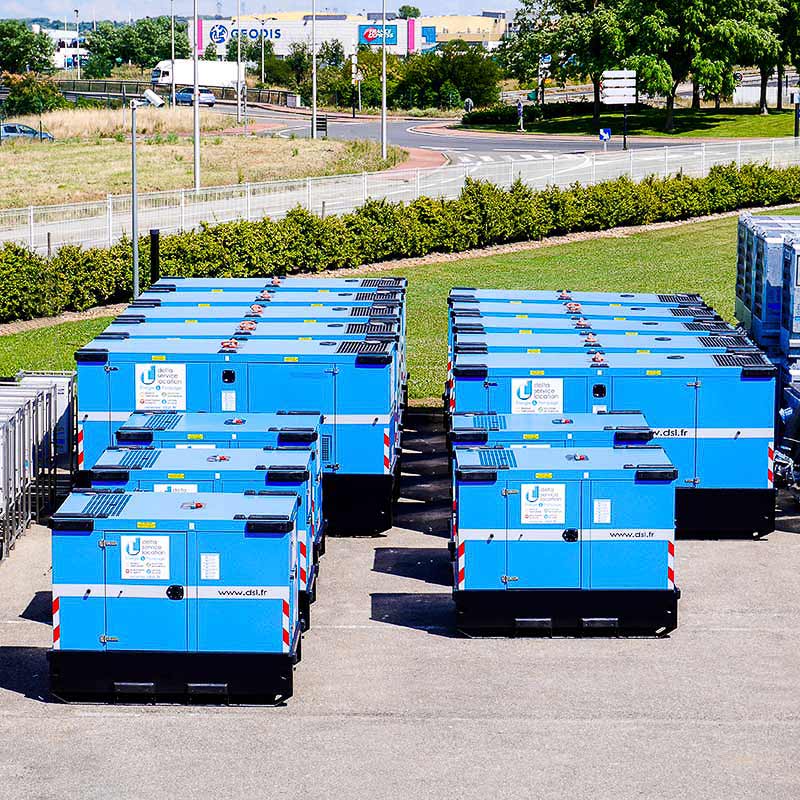 Generator Hire
More than 835 generators from 10 to 2000 kVA to produce electricity reliably and autonomously
Delta Service Location has gained a reputation as an expert in hiring of diesel generators for 40 years.
As customer satisfaction is our priority, we regularly invest in up-to-date, reliable and high performance models meeting the latest anti-pollution and soundproofing standards. Chosen from among the best manufacturers and designed according to our own specifications, our generators are suitable for the needs of hiring, and simple to use due to their standardised instrumentation and control system.
With more than 835 generators for hire, and powers going from 10 to 2 000 kVA, we are sure to have the equipment adapted to your needs.
Our commercial quotations are clear and the preventive maintenance costs are included in the hire price. Whether you need a one-off hire, repeat hire or under framework contract, for one or more months, we will find the most advantageous solution.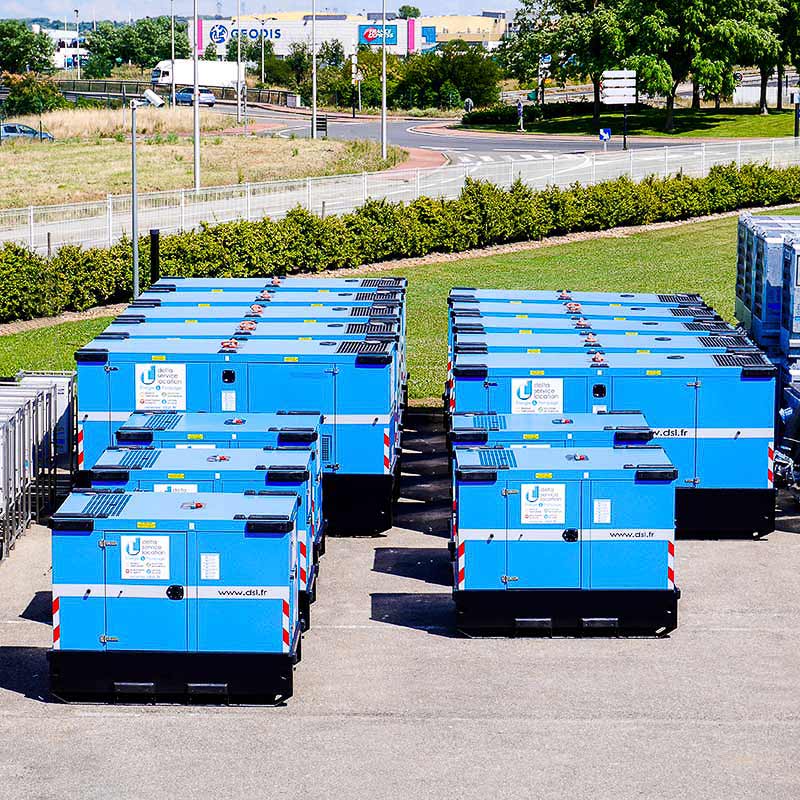 Contact us for any request for quotation, information on our services or availability of our equipment!
For our 24 hour on-call service or emergencies, you must please contact us by telephone.
TECHNICAL PROPERTIES:
Generators that can be connected into multi-machines and multi-applications: network connection, load takeover connection in either direction, base load, peak shaving etc.
Manual or automatic starting: loss of mains detection, dry contact, timer operation
Supplied on "SKID" frame incorporating 110% retention vat of all petroleum products
Canopied and sound-proofed compliant with European standards
Connection to terminal or with plug pack depending on model
The autonomy may be increased as desired with our external fuel tanks
GIES generators equipped for petrochemical sites (butterfly valve, emergency stop, spark arrester, extinguisher)
Generator Hire
Prime Rated Power
Consumption*
Tank capacity
Service Weight
Dimensions
Sound level at 7m

5.4 l/h
282 l
1 213 kg
L: 2.10 m
W: 0.95 m
H: 1.20 m
63 dB (A)

7.9 l/h
190 l
1 160 kg
L: 2.15 m
W: 1.03 m
H: 1.33 m
62 dB (A)

11.6 l/h
300 l
1 950 kg
L: 2.40 m
W: 1.20 m
H: 1.65 m
61 dB (A)

18 l/h
389 l
2 350 kg
L: 2.92 m
W: 1.14 m
H: 1.96 m
69 dB (A)
Other models available on request
* at 75% load, may vary depending on usage and load applied to the generator
Technical data not contractual, vary depending on model
PREVENTIVE MAINTENANCE
The frequency of periodical maintenance is reinforced to keep our equipment in perfect operational condition. When used for extended periods, maintenance may be provided on your site by our engineers. They undertake engine oil change, filter replacements, parameter checks and level checks, in coordination with your teams, to minimise the impact on your work.
HIRE RETURN CHECKS
Our maintenance policy, in addition to periodical maintenance, consists of conducting more than 20 checkpoints for each site hire return to guarantee optimum operation to every customer. That comprises checking levels (coolant fluid, oil, fuel, retention vat, battery charging, visual checks (engine, leaks, 3-way valves, temperature, oil pressure), instrumentation and control system settings and start-up tests. If necessary, our engineers shall conduct breakdown diagnostics and shall replace parts.
ENVIRONMENTAL STANDARDS
Our diesel generators comply with European directives on NOx, HC and CO2 emissions for engines: Stage 3a, Stage 3b, Stage 5. They are equipped with soundproof bonnets to guarantee a low sound level when using.