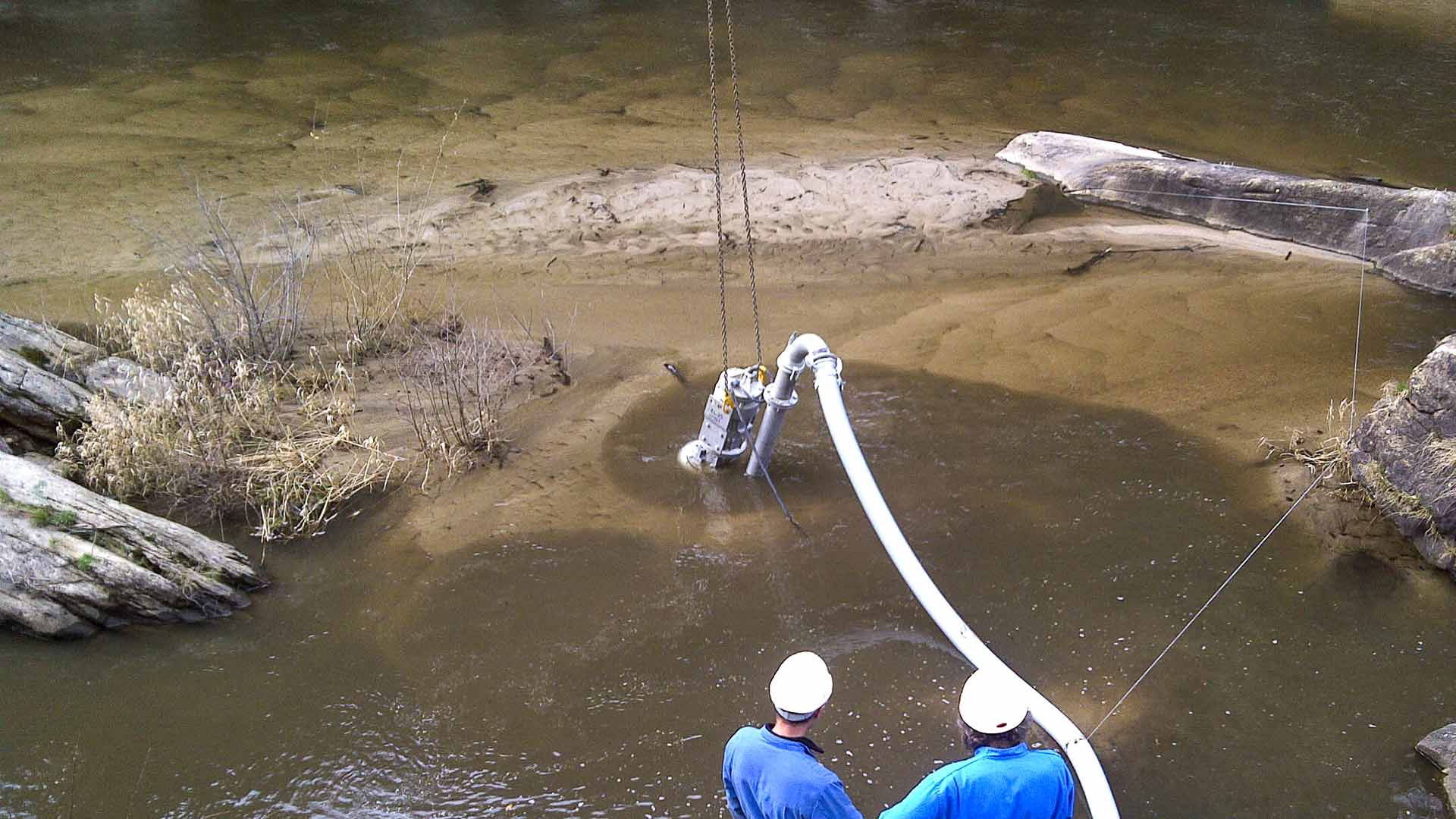 Mud and Sand Pump Hire
Models suitable for pumping mud, sand, very-loaded or viscous liquids
Over the years, Delta Service Location has become established as a major player in pump hire. We have installed temporary mud and sand pumping solutions in various environments.
Our range of desilting and sand removal pumps comprises strong, versatile, high performance models, specially designed to remove muddy waters, mud and water loaded with fine and abrasive particles.
Our temporary pumping solutions allow us to meet the requirements of various specific applications:
Mud transfer operations
Extraction of sand and gravel
Slag pumping
Dredging sand deposits, alluvial clay and sediments
Sand removal from holding basins and channels
Port and harbour dredging etc.
Depending on the desired need and application, we provide electric submersible or surface pumps of up to 650 m³/h for a maximum height of 52 m.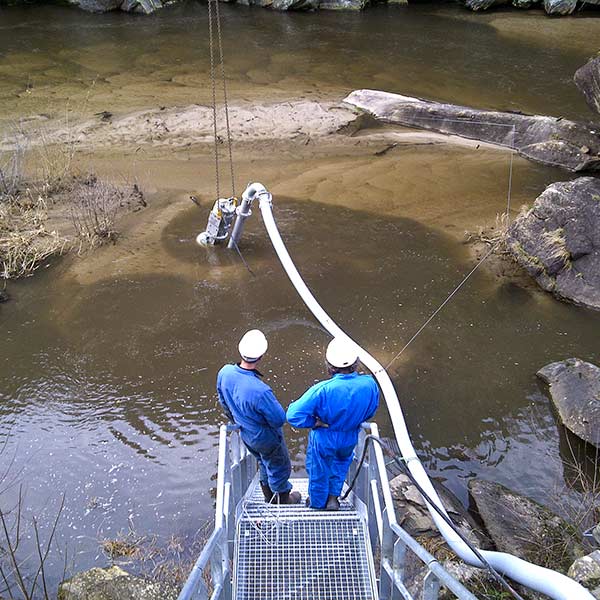 Contact us for any request for quotation, information on our services or availability of our equipment!
For our 24 hour on-call service or emergencies, you must please contact us by telephone.
TECHNICAL PROPERTIES:
Wide choice among the best brands

: BBA, Dragflow, Flygt, Grundfos, Hidrostal, KSB, Lowara, Pedrollo, Pioneer, Selwood, Sulzer, Toyo, Tsurumi, Versamatic, and many others
Technologies suited to the type of effluent: centrifugal pumps, axial pumps, volumetric pumps (piston pumps, diaphragm pumps, peristaltic pumps, vane pumps, geared pumps, lobe pumps, screw pumps, helical pumps, etc.)
Various models of impellers: helical, open single channel, open or closed multi-channel, mixed flow, cutter, vortex etc.
Manual or automatic starting: dry contact, timer operation, level regulation, programmable machines
Electrical models up to 2.4 kW for a single phase 230 V supply and up to 150 kW for a triple phase 400V supply
Canopied and sound-proofed diesel driven pumps compliant with European standards
The autonomy of diesel driven pumps may be increased as desired with our external fuel tanks
Dredging, Desilting and Sand Removal Pump Hire
Reference
Max flow rate
Max height
Power consumption
Clearance
Dimensions
Weight

122 m³/h
31 m
9.2 kW
20 mm
L: 0.4 m
W: 0.3 m
H: 0.9 m
99 kg

150 m³/h
24 m
13 kW
25 mm
L: 0.42 m
H: 0.92 m
270 kg

190 m³/h
27 m
18 kW
35 mm
L: 0.8 m
W: 0.54 m
H: 1.36 m
680 kg

225 m³/h
15 m
26 kW
60 mm
L: 0.9 m
W: 0.54 m
H: 1.47 m
750 kg

290 m³/h
19 m
30 kW
100 mm
L: 2.1 m
W: 1.05 m
H: 1.4 m
900 kg

550 m³/h
30 m
44 kW
60 mm
L: 0.94 m
W: 0.55 m
H: 1.61 m
1 450 kg

600 m³/h
39 m
75 kW
60 mm
L: 1.57 m
H: 1.88 m
2 200 kg

650 m³/h
52 m
90 kW
60 mm
L: 0.94 m
W: 0.55 m
H: 1.61 m
1 450 kg
Other models available on request
Additional materials
Jet Ring System
The ring system is an additional accessory enabling the destructuring of compact, dry or clay materials.
The ring is placed on the strainer at the bottom of the pump and fulfils his destructuration function using high pressure water jets.
Desilting and Dredging Barges
For desilting, dredging or sludging operations in areas with restricted access, we provide the hire of 2 models of remote-controlled barges, designed for various applications.
Find out about our dredging and desilting barges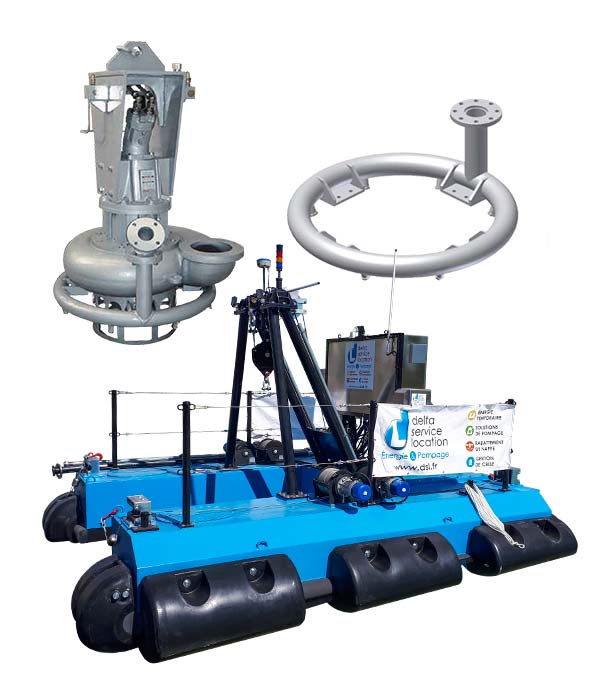 PREVENTIVE MAINTENANCE
The frequency of periodical maintenance is reinforced to keep our equipment in perfect operational condition. For extended usage, maintenance may be provided on your site by our engineers, in coordination with your teams, to avoid any impact on your work.
HIRE RETURN CHECKS
Our maintenance policy, in addition to periodical maintenance, consists of conducting numerous checkpoints for each hire return to guarantee optimum operation to every customer. This comprises dismantling of pumps, visual inspections and operational checks of hydraulic and electrical parts. For diesel driven pumps, add level checks, battery charge checks, visual and control inspections, and startup tests.
If necessary, our engineers will undertake breakdown diagnostics and replacement of parts, then the pumps are tank-tested to check their performance curves.