Press Release
Corbas (69), 26 January 2021
DELTA SERVICE LOCATION HAS ACQUIRED SEVERAL COMPANIES IN THE AREA OF DEWATERING AND SPECIALISED PUMPING
Delta Service Location has just completed an external growth operation with the companies ERF, Neptune and Action Écologie. The Lyonnaise SME shall therefore be extending its range of expertise, particularly in drilling, wellpoint dewatering and water treatment.
The companies ERF (European Dewatering and Borehole Company), Neptune and Action Écologie are three entities of a group specialised in construction dewatering (see definition below), hire/sale of pumping and water treatment equipment.
A major player in the sector for lowering the water table and pumping, Delta Service Location has wished to reinforce its expertise with the acquisition of these specialist companies situated at La Gorgue (59), Coudekerque-Branche (59) and Gazeran (78).
This association has allowed an industrial project to be realised that consolidates the skills and know-how in a very technical area and will allow the emergence of a keynote company at the national level in the area of dewatering and temporary pumping solutions.
Xavier DENIS, General Manager of Delta Service Location, is very happy to welcome the 47 members of staff that will enhance the team and improve the capacity of the group to deal with its customers' projects.
What is dewatering?
Under our feet, the water table is situated at a variable depth.
It may be encountered while working on earthworks, which makes continuing with trenching and the construction of underground buildings (foundations, car parks, metro stations, etc.) impossible.
Dewatering consists of putting in place a temporary pumping facility allowing the level of the water table to be lowered locally. Therefore, the work may progress under optimum conditions.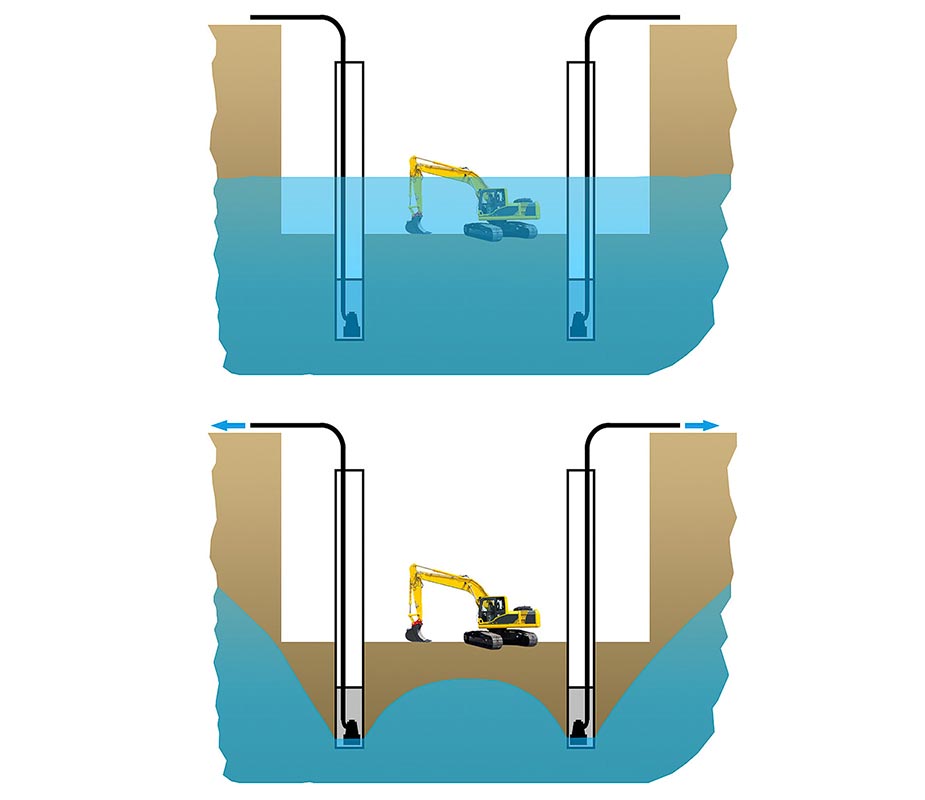 DELTA SERVICE LOCATION is a Lyonnaise SME of 160 employees, specialised in the supply of temporary energy, provisional pumping and dewatering. Whether this is by equipment hire (generators, pumps etc.) with services or by global project management, its core business is to provide its customers with turnkey solutions. Established at Saint-Fons (69) 40 years ago, its headquarters are now located at Corbas (69), and it is established throughout the national territory with 8 branches.